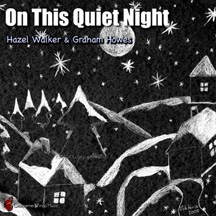 Looking for something unique for Christmas? Order 'On This Quiet Night' - a new Christmas CD featuring Hazel Walker and Graham Howes. Unique jazz arrangements including a new composition by Graham. Stellar accompaniment by Mike Murley (sax), Neil Swainson (string bass) and Steve Heathcote (drums)
$20 Including shipping - Buy It Now
Hazel Walker • Vocals
Graham Howes • Piano & Vocals
Mike Murley • Tenor & Soprano Sax
Neil Swainson • String Bass
Steve Heathcote • Drums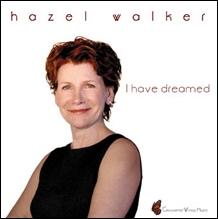 I Have Dreamed
"A superb treatment of jazz classics by the wonderful Hazel Walker. With obvious good taste, Walker has chosen her material carefully. Tunes by Rogers & Hammerstein, Billy Strayhorn, Hoagy Carmichael and Thelonious Monk are featured but new items are not forgotten. Arranger, Graham Howes, contributed a song titled Firefly and accompanies the singer on piano. The tune is a winner and a highlight of the album. ...Hazel Walker is a confident and mature vocalist and just impresses the hell out of me. I Have Dreamed is a faultless production and will reside on my "play often" shelf." - excerpt from jazzreview.com by Richard Bourcier .. read the full review here
$20 Including shipping - Buy It Now
Hazel Walker - vocals
Brian Dickinson - piano
Graham Howes - piano
Neil Swainson - string bass
Barry Elmes - drums
Guido Basso - harmonica
John MacLeod - trumpet/flugal horn
Michael Stuart - sax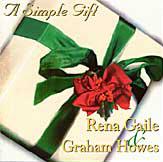 Looking for something traditional for Christmas? Order my CD 'A Simple Gift' - a relaxing collection of piano and voice with my unique arrangements of some Christmas favourites. Perfect for that night by the warm fire, a good glass of red wine.
Enjoy 14 classic Christmas songs done in a more traditional way. What you'll hear is classic piano stylings with the distinctive vocals of Rena Gaile & Graham Howes.
$15 (taxes and North American shipping included) Buy It Now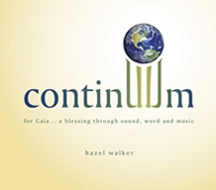 Continuum • Recorded as a blessing for Mother Earth and a sonic exploration of her evolution, Continuum also expresses the personal journey of the vocalist and offers the listener an opportunity to access their own ancestry and dream the new world community into being.
Dive deeply into your interior realm of wisdom, wealth and wildness. Allow yourself to be wrapped inside a blanket of instrumental and vocal sounds that will accompany you through encounters with stillness, sorrow, delight and bliss.
$20 Including shipping - Buy It Now
Hazel Walker: vocals, breath and spoken word
Gary Diggins: didgeridoo, hang, ngoni, native flute, water harp, ashiko drum, tongue drum, gong, Tibetan bowls, shakers, percussive toys, and vocals on New Humanity.
Graham Howes: piano
Paul Novotny: bass
Lucas Tensen: cello
Tom Wolf: tongue drum, conga and bodhran
Concept: Hazel Walker
Produced by Hazel Walker


Listen to some sound clips from Continuum: Lament • Maturation • New Humanity