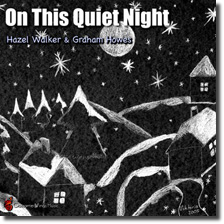 Available Now

A refreshing, jazzy approach to traditional Christmas music
"On This Quiet Night features the sassy singer in the company of her regular pianist Graham Howes, who also shares the vocals on a few tracks. The pair offer a burning scat rendition of "Sleigh Ride" and I've never heard a better version." ..read the full review


I Have Dreamed
A superb treatment of jazz classics by the wonderful Hazel Walker including a new composition, Firefly, by Graham Howes.


Looking for something unique for Christmas? Order 'A Simple Gift' - a relaxing collection of piano and voice with unique arrangements of Christmas favourites by Graham Howes. Perfect for that night by a warm fire, a glass of red wine….
Enjoy 14 classic Christmas songs with distinctive vocals by Rena Gaile and Graham Howes.
$15 (taxes and North American shipping included) But It Now
New Release!

Continuum
Recorded as a blessing for Mother Earth and a sonic exploration of her evolution, Continuum also expresses the personal journey of the vocalist and offers the listener an opportunity to access their own ancestry and dream the new world community into being.